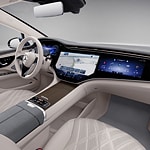 The new 2022 Mercedes-Benz EQS is a luxury sedan in which natural beauty merges seamlessly with futuristic technology. Within the cabin of this sedan, you'll find classy and innovative tech amenities that are rarely seen in a vehicle of this stature.
As you climb into the driver's seat of the classy Mercedes-Benz EQS you'll instantly notice a 17.7-inch OLED touchscreen display. A 12.3-inch instrument cluster spans the dash beside this display, creating an illuminated aesthetic that is contemporary and easy to read. Also accompanied by a 12.3-inch passenger display, the EQS has the perfect trifecta of a hyperscreen layout.
Within the 2022 Mercedes-Benz EQS is personalization at its finest. This sedan learns your fingerprint, face and habits, as it creates a customized driving experience just for you. Anticipating your needs before you even know about them, yourself, this electric vehicle implements artificial intelligence to the highest extent.