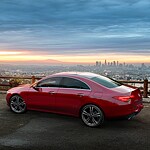 Mercedes-Benz is known for its high-quality, luxurious cars. The company has just announced that it will be releasing a new model in 2022 - the CLA. This car is sure to impress drivers and passengers alike with these amazing performance features:
- Engine: The CLA will be powered by a new generation of turbocharged engines, making it more fuel-efficient and powerful than ever before.
- Transmission: The transmission has been updated to an eight-speed dual-clutch automatic, providing smoother shifting and better performance.
- Suspension: The suspension has been tweaked to provide a more comfortable ride, while still maintaining the sporty handling that Mercedes-Benz is known for.
- Brakes: The brakes have been upgraded to provide better stopping power and shorter braking distances.
- Wheels and tires: The wheels and tires have been specifically designed for the CLA, providing better grip and handling.