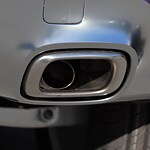 Direct-Steer helps when parking or driving to make steering more comfortable and responsive. Once you're out of the city, you can adjust the suspension from comfort to sport and back again with the Adaptive Damping System to add a little adventure to your ride.
Torque Vectoring Brake is another way of controlling the brakes when turning along with Electromechanical power steering to provide better cornering. The 4-wheel independent suspension, combined with Front-wheel drive, does what Mercedes does best. It offers the best ride.
Dynamic Select gives you the power to make the car your own with four preset driving modes, which complement the 8-speed dual-clutch automatic transmission. For maximum fuel economy, the ECO Start/Stop system will turn the engine off while idle and on again as soon as the brake pedal is released. The 2.0L inline-4 turbo engine provides turbocharging with its 258 lb-ft of torque while using less fuel.