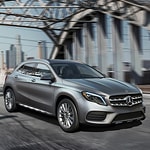 If you're looking for a compact SUV with top of the line performance features, look no further than the second-generation Mercedes-Benz GLA 250 SUV.
When it comes to engine power, the Mercedes-Benz GLA 250's compact 2.0 liter engine makes no sacrifices in performance. It boasts 258 lb-ft of torque combined with 221 turbo horsepower to deliver a powerful and responsive driving experience. There is no need to worry about driving in treacherous conditions, whether it be rough and rocky terrain or inclement weather, because this compact SUV comes pre-loaded with everything you need to guarantee a comfortable and safe drive. Choose from one of its pre-defined performance profiles, or let it do the work for you by adjusting each tire's grip and power based on real-time road conditions.
Do you prefer to have maximum control? Not to worry because the dual-clutch 8-speed automatic transmission can be quickly and easily transitioned to manual at any time.