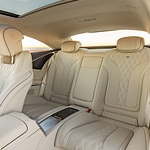 Mercedes-Benz S-class is the biggest and most advanced car in the company. Some refer to it as the big boy, and it sets the bar for the company's newer products. The latest Mercedes-Benz S 560 model comes with an excellent exterior with a state-of-the-art body.
The car's sedan body makes it more durable and has always been the safest model since immemorial. It has dominated the industry because of its stability and wide wheel. The car's unique taillights and headlights make it more engaging. At the front, the S 560 Maybach has a three-dot LED light pattern. When the lights are on, they get amplified by the LEDs located under the bulbs.
When you move to the back of the car, you will see an S-class soft surfacing that triangular-like taillamps have broken up. Inside the lamps, you will see clear and straightforward LED light lines, but you will see a digital skyline that makes the S 560 model look fantastic on the exterior when you move further.