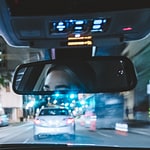 Driving in the city at night can be treacherous if the bright lights from other drivers' cars create a glare in your rearview mirrors. Here at Napleton's Autowerks, Inc. (Loves Park), we want you to know about auto-dimming rearview windows and how they can help make driving safer.
Unlike regular rearview mirrors, which might simply be glued on, auto-dimming mirrors are complex devices with multiple layers. They are equipped with sensors that are able to detect when the ambient light means more glare is likely. Another set of sensors is responsible for detecting the glare and sending a message to a microcontroller, which then makes an appropriate adjustment to the glare.
These mirrors will reduce the fatigue you may experience as a result of the glare and also improve your visibility. This means you will be less likely to have an accident.