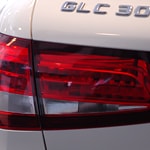 Safety features are among the most important and common reasons for buying a vehicle such as the Mercedes-Benz GLC 300 4MATIC. The features make the 4MATIC trustworthy when it comes to getting people where they need to be without any major problems. You have plenty of standard and available features to choose from.
Even the most attentive driver is going to benefit from the Active Brake Assist feature of the Mercedes-Benz GLC 300 4MATIC which lets drivers know when they are approaching a vehicle at a speed in which you may actually crash into them. When you brake, the vehicle assists with the braking in order to make sure you avoid crashing.
In the case of a collision or anything that causes the air bags to deploy, the GLC 300 4MATIC can make calls to Mercedes-Benz Emergency services in order to get you the help you need.